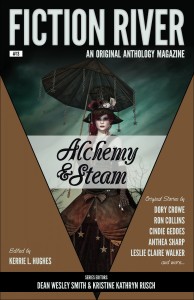 I got into Steampunk because of the cool costumes and nifty gadgets – and then started reading about the amazing worlds they "came" from. So when I had the opportunity to write an original Steampunk short story for the WMG Fiction River anthology "Alchemy & Steam" (edited by the fabulous Kerrie L. Hughes), I couldn't resist!
My story, "Heaven's Flight" adds just a drop or two of magic to a world where gears and clockworks rule the day – and introduces some characters I guarantee you I'll be writing more stories about.
ISBN 978-1-56146-627-6
ebook, $6.99
Trade paperback, $15.99
Available wherever you like to buy books!
Tags: Fiction River